ABOUT SBM
Soldiers Bible Ministry is a nationwide network of volunteer partner organizations offering spiritual and emotional support throughout the pre-deployment, deployment, re-deployment and post deployment phases of military duty.  SBM is active in the free distribution of Bibles, Bible Study Materials and other resources to all military personnel upon request, personal letter-writing campaign offering encouragement, and the provision of free Bibles in the native language of non-English speaking military forces.  All activities of SBM are tactically designed to remain in full compliance with all US Chaplain codes of conduct related to proselytizing and other ethical rules.
HISTORY OF SBM
Written by: John Hoben, Founder and Executive Director
My Dad, Hank Hoben, "Uncle Doc" Howard Bo, Harry Leichtweis Sr., Colonel Dave Young, Mama Cindy Strasburg, Anna and her son Rich Matthews, John Reynolds, Jan Ross, Chaplain Chris, everyone at Koinonia House/Koinonia Institute and many others have all been "perspirational" and inspirational blessings from our Lord in this ministry.
Military ties and national patriotism have been long standing threads in my life. It started with my Dad, Hank. He grew up fatherless after his Dad divorced my grandma (unheard of in those days) to go off and fight WWII after having already served in WWI. Dad served our nation as soon as he could (he was 18 when VJ Day was declared) in the US Marines. He was stationed in Quantico in pre-aviation training after Parris Island, served and went on to be the best father anyone could ever have. He always loved the fact that I was born on Patriot's Day, a "National Holiday" (even though it's celebrated only in New England) commemorating the Battle of Lexington and Concord on April 19th, 1775. Hank's best buddy was Howard Bo, my mom's brother. Uncle Doc Bo flew a Grumman TBF in WWII's Pacific Theatre of Operations off the USS Cabot CVL28 (sister ship to the USS Bella Woods, President HW Bush' ship). After the Lord called Hank home at the young age of 53 on Veteran's day, 11/11/1981, we especially loved the stories from Uncle Doc about Hank and his adventures.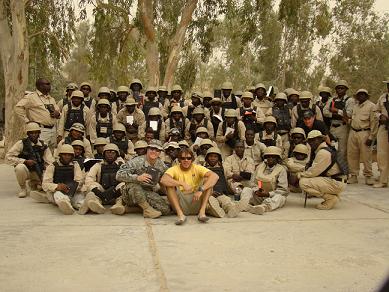 At the time I was a congressional nominee from Barber Conable for the US Naval Academy. Our Lord had different plans for me than to attend Annapolis. A mutual high school friend got my wife and me together. The Lord later blessed us with three daughters. We moved back to the Rochester, NY area and ended up working with a local technology firm after learning some entrepreneurial lessons.
It was at this local tech firm where I met Dave Young. Dave was deployed to Afghanistan less than 4 months post-911. Before he left, I told him I would pray for him. While in Afghanistan, Dave wrote his 'dispatches from the front' via email and upon his return, he showed me the slides from the people he met and worked with in Afghanistan. He also shared with me that he could feel when I was praying for him and that without the prayers of his friends and family he would not have returned!
After Dave's return from his second deployment to Haiti, we started discussing how we could support the spiritual needs of soldiers in Iraq, Afghanistan and other places where they are in harms' way. Around the same time, I received a post from Anna Matthews on the K-House Berean Online Fellowship bible study group titled: "My son is in Iraq." Through correspondence with Anna in the Spring of 2007, and subsequently seeing Mama Cindy's soldier program on TV, with the support of K-House, we put together BOF membership certificates for military personnel and a "Learn the Bible in 24 Hours" CD in Mama Cindy's packages. They were well received, and Mama Cindy said many of her soldiers would like to get pocket bibles (the whole bible) to carry with them on their patrols. Consequently, we started purchasing and shipping the pocket Bibles along with the materials from Koinonia House/Koinonia Institute which included Learn the Bible in 24 Hours CD's, BOF 1 year membership certificates and Institute Studycenter.com free Old Testament and New Testament course passes. These in kind contributions from Koinonia are valued in the millions of dollars given the quantity we will ultimately distribute.
Dave and I re-evaluated our Bible ministry program and thought it would be good to start reaching out to Chaplains deployed abroad. Dave knew a chaplain from years ago when Dave was a 'lowly lieutenant' who shared his heart for ministry and had a specific request for Swahili bibles to distribute to allied troops from Uganda.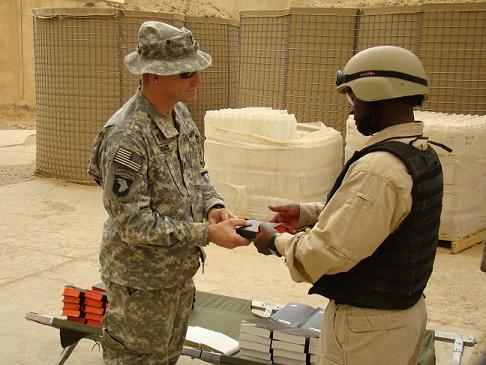 These Ugandan soldiers were assigned to protect US Troops at the Forward Operations Base (FOB) and were coming to the Lord during the worship services. He thought it would be fantastic to have the Bibles in the native language of these troops.
After buying a few Bibles from an expensive source in the winter of 2008, I reached out to a friend and brother from Philadelphia who was introduced to me originally through Gordon McDonald, Director of Research for Chuck Missler at Koinonia House. He did some research to find more economical Swahili Bibles and found Jan Ross and Heart of God International Ministries. What a blessing finding Jan Ross was and is today! Jan enlisted the help of sources in Uganda and Kenya to secure the Swahili Bibles for shipment to Iraq. Suffice it to say it was only by direct Divine intervention these Bibles made it to the land of literal Babylon!
Additional areas of growth in this ministry are focused on reaching families of deployed soldiers, securing other resources for both these families and soldiers in partnerships with various organizations, and providing re-acclimation ministry linkages with organizations such as Big Net Ministries International, BNMI.
As we look forward, it's our vision to secure at least 100,000 bibles and corresponding study material kits for our allied soldiers. While our goal is a lofty one, we know these are eternal treasures in heaven.
Please let us know how we can serve the soldier in your life or how you'd like to help.
John Hoben, Soldiers Bible Ministry
john.hoben@soldiersbibleministry.org
1.888.917.7256 (ext. 3)